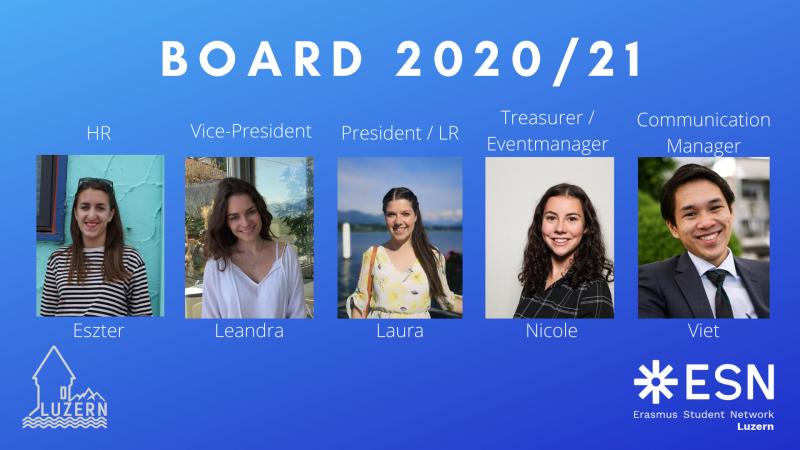 With the end of the semester, the board member's duty ended as well. We all had a great time and we all appreciate the time and effort you spent to get ESN Luzern to where it is now. Sadly, this can't continue forever and so we have to say goodbye to a few people. In no way it means that they're leaving for good as I'm sure we'll meet somewhere again, be it randomly on the streets or on an event! Once again, we, ESN Luzern, want to thank:
Laura Franke, President
Liliana Cepa, Secretary & HR
Antonio Corvi, Treasurer
Shari Goy, Event Manager
Tobias Hösli, Sport Events
Alexander Marti, Partnership Manager
Barbara Buchegger, Treibhaus Coordinator
Lara Jornod, Treibhaus Coordinator
Chris Kurkdjian, Webmaster
Natanja Strässle, Communication Team
Francisco Cortes, Communication Team
Every end also means a new start, so let's welcome (or welcome back) our new board.
Laura Franke, our lovely President, is staying with us for at least another semester. Leandra, Buddy Coordinator extraordinaire for UNILU and PHLU, is joining the board as the new Vice-President. Eszter, incoming student and a great person to hang around with, has been a great addition to the team and is our new HR. Nicole, highly motivated and always smiling, took over the part of Event Manager mid-semester and decided to continue her duty in addition to her new role as Treasurer. Last but not least, Viet, multitasker with the roles as Buddy Coordinator for HSLU and Webmaster, is joining the board as the new Communication Manager.
Laura Franke, President
Leandra, Vice-President
Eszter, HR
Nicole, Treasurer & Event Manager
Viet, Communication Manager
We wish the old board, the new board and all of you the best and see you soon!