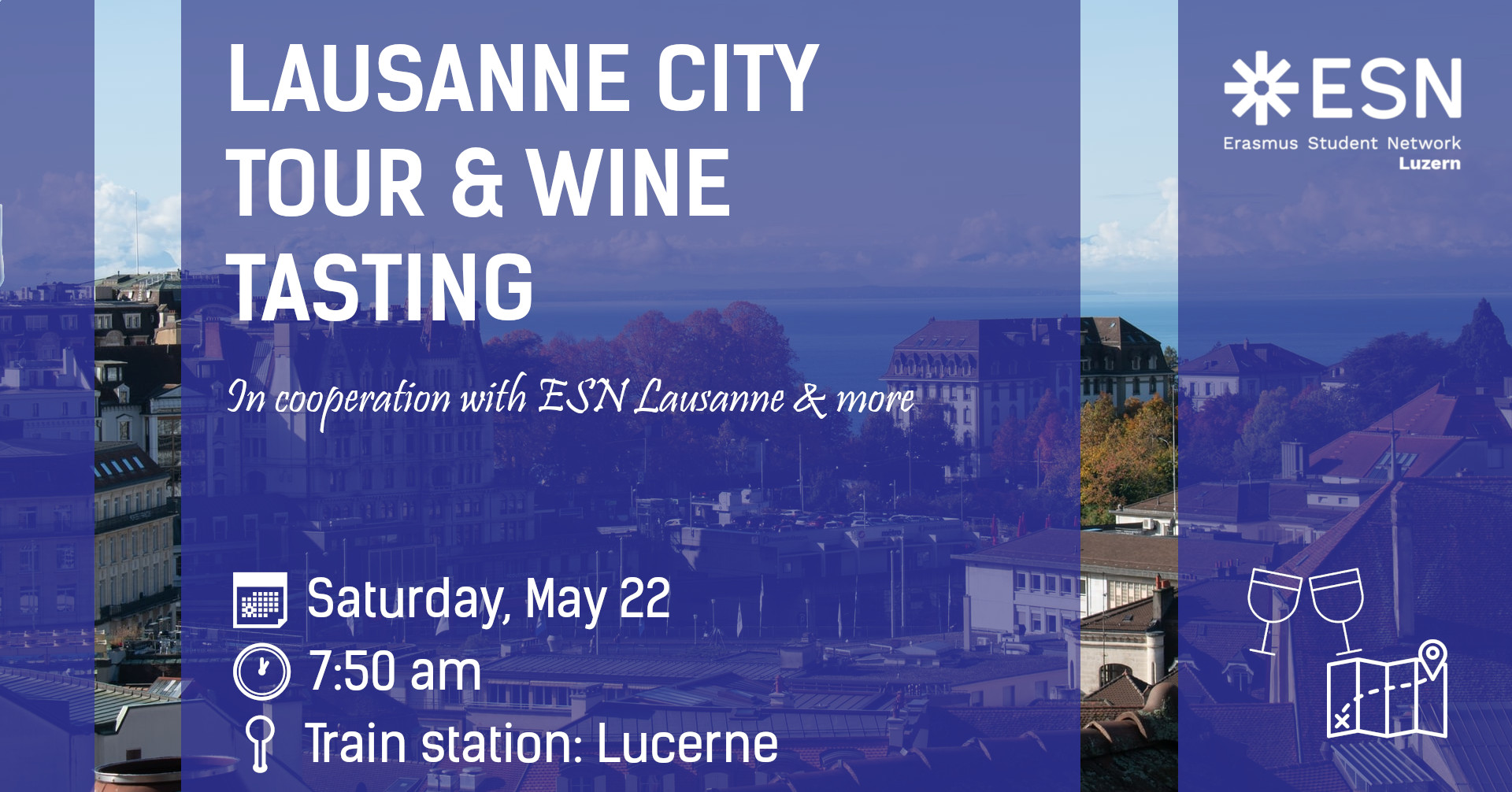 Date:
22/05/2021 -

07:45

to

22:00
Have you been to Lausanne yet? No? Then don't wait and take up the chance and join us on our city tour through Lausanne guided by ESN Lausanne! After an amazing morning in the city, we'll then visit the Lavaux Vineyards, split up to mixed groups with ESN Basel and ESN Lausanne to tour through the vineyards and finally finish off the event with some wine tasting.
Morning
---------
Train to Lausanne 8:00am
Lausanne city tour 10:30am - 12:30pm
*****************
**Lunch break**
*****************
Afternoon
-----------
Lavaux Walking Wine Tour from 1pm - 6pm
Train back to Lucerne: 7:44pm
Arrival at Lucerne: 10:01pm
* Registration is mandatory! (See registration link down below) *
Date:
Saturday, 22 May 2021
Time:
Meet at 7:50am
Meeting point:
Train station: Lucerne
Participation limit:
40
Price:
Individual train ticket price, also see the note about pricing below
Additional note about the price
***********************************
ESN Lucerne will pay for the Wine degustation, but you will have to pay for your train tickets!
We will book a group ticket though, which means that the total price will be around 45-50.- francs for both ways - no matter if you have a half fare card or not (exact price will be announced shortly). In the sign up sheet, you can choose options if you want to book the train tickets yourselves (which will be more expensive though), or if we should only book a one way ticket for you (either way). Choose this option if you have a Seven25 pass (since the way back will be after 7pm) or if you want to combine the trip with an overnight stay in Lausanne (the overnight stay would have to organised by yourself). You can pay us the ticket prices either via Twint (contact us for the number) or cash on the day of the event.
If you feel sick or show symptoms please don't participate at the event. Furthermore, be aware that the social distancing rules may not be fulfilled at all time of the event. With the registration you agree to that.